📓 All Your Perfects is not your typical women's fiction, contemporary, romance novel. This is a heartbreaking, unforgettable story with well-written characters, and an impactful message for men and women. 📚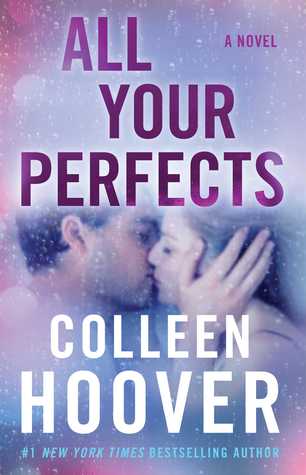 Title: All Your Perfects
Author: Colleen Hoover
Genre: Women's Fiction, Contemporary Romance
Publisher: Atria Books, Simon & Schuster Canada
Expected Publication: July 17, 2018
Page Count: 320
"Colleen Hoover delivers a tour de force novel about a troubled marriage and the one old forgotten promise that might be able to save it.
Quinn and Graham's perfect love is threatened by their imperfect marriage. The memories, mistakes, and secrets that they have built up over the years are now tearing them apart. The one thing that could save them might also be the very thing that pushes their marriage beyond the point of repair.
All Your Perfects is a profound novel about a damaged couple whose potential future hinges on promises made in the past. This is a heartbreaking page-turner that asks: Can a resounding love with a perfect beginning survive a lifetime between two imperfect people?"https://www.goodreads.com/book/show/38926487-all-your-perfects
Told from Quinn's perspective, All Your Perfects, features themes about marriage, and communication. The synopsis is vague, so I'm going to keep my review ambiguous as well.
The chapters flip back and forth between the past (How Quinn and Graham met and fell in love) and present (7 years into their marriage). I read the "past" chapters with a smile on my face, happy that these two have found each other. Then, the next chapter would be in the present where their entire marriage is in jeopardy, and I felt my heart aching for them.
Quinn and Graham's characters are well-balanced, dynamic, relatable. I fell in love with Quinn and Graham.
"If you only shine light on your flaws, all your perfects will dim."
As a married person I deeply appreciate how Hoover weaves a story showing how hard marriage is. There are many ways to derail a marriage, and it takes a lot of work to keep things on track.
 I don't often cry while reading a book, yet this gripping narrative made me shed tears numerous times.
When I saw the cover I rolled my eyes thinking this would be a cheesy romance novel. I have a new-found respect for Hoover and can't wait to read more of her work.
Poignant, emotional, beautiful, All Your Perfects, is a superb summer read. Highly recommend! 🌟🌟🌟🌟🌟
I received a complimentary copy in exchange for my honest, unbiased opinion. Thank you to the publisher, author, and NetGalley, for allowing me to review.
The quotes above are from an advanced review copy and are subject to change upon publication.
"International and #1 New York Times bestselling author of romance, YA and Women's Fiction.
Still doesn't know the difference between affect/effect, further/farther, or if the oxford comma is in or out.
If you want to follow me, my username is @colleenhoover pretty much everywhere except my email, which is colleenhooverbooks@gmail.com
Founder of www.thebookwormbox.com charity. We've donated over one million dollars to various charities. Give us your money so we can donate even more"
https://www.colleenhoover.com/
https://www.goodreads.com/author/show/5430144.Colleen_Hoover