📓 The Broken Girls is a suspenseful, ghostly, mystery novel about two murders that took place at a girl's boarding school. I received a complimentary copy in exchange for my honest, unbiased opinion. Thank you to the publisher, author, and NetGalley, for allowing me to review. This review is spoiler-free 📚 😌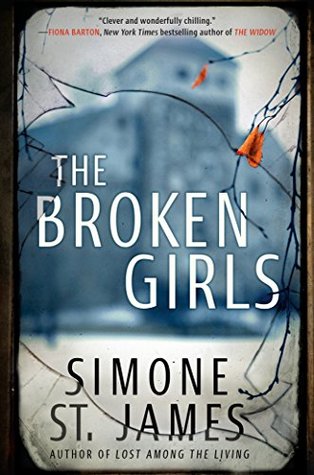 Title: The Broken Girls
Author: Simone St. James
Genre: Mystery/Thriller/Ghost Story
Publisher: Berkley Publishing Group
Date published: March 20th, 2018
Page Count: 336 pages
"A suspense novel from the award-winning author of The Haunting of Maddy Clare…
Vermont, 1950. There's a place for the girls whom no one wants–the troublemakers, the illegitimate, the too smart for their own good. It's called Idlewild Hall. And in the small town where it's located, there are rumors that the boarding school is haunted. Four roommates bond over their whispered fears, their budding friendship blossoming–until one of them mysteriously disappears. . . .
Vermont, 2014. As much as she's tried, journalist Fiona Sheridan cannot stop revisiting the events surrounding her older sister's death. Twenty years ago, her body was found lying in the overgrown fields near the ruins of Idlewild Hall. And though her sister's boyfriend was tried and convicted of murder, Fiona can't shake the suspicion that something was never right about the case.
When Fiona discovers that Idlewild Hall is being restored by an anonymous benefactor, she decides to write a story about it. But a shocking discovery during the renovations will link the loss of her sister to secrets that were meant to stay hidden in the past–and a voice that won't be silenced. . . .The Broken Girls: Goodreads
The Broken Girls tells the story of a journalist named Fiona trying to uncover the truth about her older sister's murder. Followed by the ghost of Mary Hand, Fiona uncovers the tragic story of Sonia, a student at Idlewild Hall boarding school in Vermont.
Some of the creepy Mary Hand ghost parts left me on the edge of my seat, all of my senses heightened in fear of hearing tapping on the window and the voice of a girl asking to come in. I enjoyed the Gothic feel to this read. The Broken Girls is a character-driven story, leaning more towards mystery than thriller. Idlewild Hall, looming over many souls for over a hundred years, was a character on its own.
There were some facts repeated multiple times which makes me feel like the author thinks I'm not smart enough to remember that particular fact after it's mentioned the first or second time. We are also given a character description when she looks in the mirror. This info could have been woven into the story elsewhere (and it was, multiple times). The whole journalist dating a cop thing was a predictable relationship. For me, there was a lot going on, and maybe some editing could have made this a five-star read.
Chilling, unpredictable page-turner about overcoming hardships and the power of truth. I suggest this one to mystery fans who like a dollop of supernatural with a big spoonful of romance.
"Simone St. James is the award-winning author of The Haunting of Maddy Clare, which won two RITA awards from Romance Writers of America and an Arthur Ellis Award from Crime Writers of Canada. She wrote her first ghost story, about a haunted library, when she was in high school, and spent twenty years behind the scenes in the television business before leaving to write full-time. She lives in Toronto, Canada with her husband and a spoiled cat."