Title: The Death of Mrs. Westaway
Author: Ruth Ware
Publisher: Gallery/Scout Press
Date Published: May 29, 2018
Genre: Mystery/Thriller
Page Count: 384
Synopsis: "From the #1 New York Times bestselling author of In a Dark, Dark Wood, The Woman in Cabin 10, and The Lying Game comes Ruth Ware's highly anticipated fourth novel.
On a day that begins like any other, Hal receives a mysterious letter bequeathing her a substantial inheritance. She realizes very quickly that the letter was sent to the wrong person—but also that the cold-reading skills she's honed as a tarot card reader might help her claim the money.
Soon, Hal finds herself at the funeral of the deceased…where it dawns on her that there is something very, very wrong about this strange situation and the inheritance at the center of it.
Full of spellbinding menace and told in Ruth Ware's signature suspenseful style, this is an unputdownable thriller from the Agatha Christie of our time."
Title: Look At Me
Author: Mareike Krügel
Publisher: Text Publishing
Date Published: December 2018
Genre: Adult, Women's Fiction, European (German)
Page Count: 288
Synopsis: "Translated by Imogen Taylor
Katharina's husband isn't coming home for the weekend—again—so she's on her own. When their chaotic daughter Helli has a nosebleed, Kat has to dash off to school to pick her up.
Then their son, Alex, announces he's bringing his new girlfriend home for the first time. Kat's best friend from college is coming around tonight too, and she's wondering if she should try to seduce him—but first she needs to do the shopping, the vacuuming and the laundry, deal with an exploding clothes-dryer, find their neighbour's severed thumb in the front yard and catch a couple of escaped rodents.
When she's got all that sorted, perhaps she'll have time to think about the thing she's been trying not to think about—the lump she's just found in her breast. Because you can't just die and leave a huge mess for someone else to clean up…can you? And wasn't there supposed to be more to life than this?"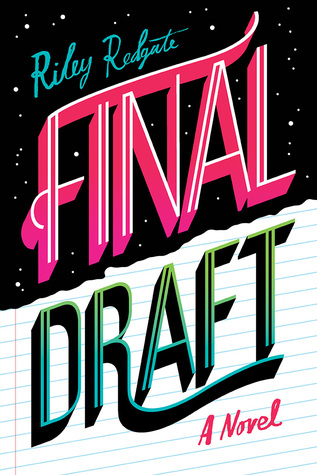 Title: Final Draft
Author: Riley Redgate
Publisher: Amulet Books
Expected Date Published: June 12, 2018
Genre: YA Contemporary, LGBT
Page Count: 272
Synopsis: "The only sort of risk 18-year-old Laila Piedra enjoys is the peril she writes for the characters in her stories: epic sci-fi worlds full of quests, forbidden love, and robots. Her creative writing teacher has always told her she has a special talent. But three months before her graduation, he's suddenly replaced—by Nadiya Nazarenko, a Pulitzer Prize–winning novelist who is sadistically critical and perpetually unimpressed.
At first, Nazarenko's eccentric assignments seem absurd. But before long, Laila grows obsessed with gaining the woman's approval. Soon Laila is pushing herself far from her comfort zone, discovering the psychedelic highs and perilous lows of nightlife, temporary flings, and instability. Dr. Nazarenko has led Laila to believe that she must choose between perfection and sanity—but rejecting her all-powerful mentor may be the only way for Laila to thrive."
Title: Slipper
Author: Hester Velmans
Publisher: Van Horton Books
Date Published: April 2018
Genre: Historical Fiction (Retelling)
Page Count: 371
Synopsis: "Her life is the inspiration for the world's most famous story.
Lucinda, a penniless English orphan, is abused and exploited as a cinder-sweep by her aristocratic relatives. On receiving her sole inheritance—a pair of glass-beaded slippers—she runs away to France in pursuit of an officer on whom she has a big crush. She joins the baggage train of Louis XIV's army, survives a terrible massacre, and eventually finds her way to Paris. There she befriends the man who will some day write the world's most famous fairy tale, Charles Perrault, and tells him her life story.
There is more: a witch hunt, the sorry truth about daydreams, and some truly astonishing revelations, such as the historical facts behind the story of the Emperor's new clothes, and a perfectly reasonable explanation for the compulsion some young women have to kiss frogs.
This is not the fairy tale you remember."
Title: Her Pretty Face
Author: Robyn Harding
Publisher: Gallery/Scout Press
Expected Date Published: July 10, 2018
Genre: Contemporary Suspense
Page Count: 352
Synopsis: "The author of the bestselling novel The Party—lauded as "tense and riveting" by New York Times bestselling author Megan Miranda—returns with a chilling new domestic drama about two women whose deep friendship is threatened by dark, long-buried secrets.
Frances Metcalfe is struggling to stay afloat.
A stay-at-home mom whose troubled son is her full-time job, she thought that the day he got accepted into the elite Forrester Academy would be the day she started living her life. Overweight, insecure, and lonely, she is desperate to fit into Forrester's world. But after a disturbing incident at the school leads the other children and their families to ostracize the Metcalfes, she feels more alone than ever before.
Until she meets Kate Randolph.
Kate is everything Frances is not: beautiful, wealthy, powerful, and confident. And for some reason, she's not interested in being friends with any of the other Forrester moms—only Frances. As the two bond over their disdain of the Forrester snobs and the fierce love they have for their sons, a startling secret threatens to tear them apart…because one of these women is not who she seems. Her real name is Amber Kunick. And she's a murderer.
In her masterful follow-up to The Party, Robyn Harding spins a web of lies, deceit, and betrayal, asking the question: Can people ever change? And even if they can, is it possible to forgive the past?"
Title: All Your Perfects
Author: Colleen Hoover
Publisher: Atria Books
Expected Date Published: July 17, 2018
Genre: Contemporary Romance
Page Count: 320
Synopsis: "Colleen Hoover delivers a tour de force novel about a troubled marriage and the one old forgotten promise that might be able to save it.
Quinn and Graham's perfect love is threatened by their imperfect marriage. The memories, mistakes, and secrets that they have built up over the years are now tearing them apart. The one thing that could save them might also be the very thing that pushes their marriage beyond the point of repair.
All Your Perfects is a profound novel about a damaged couple whose potential future hinges on promises made in the past. This is a heartbreaking page-turner that asks: Can a resounding love with a perfect beginning survive a lifetime between two imperfect people?"