"Perfect for fans of Naomi Alderman's The Power and Margot Lee Shetterly's Hidden Figures comes The Psychology of Time Travel, a mind-bending, time-travel debut."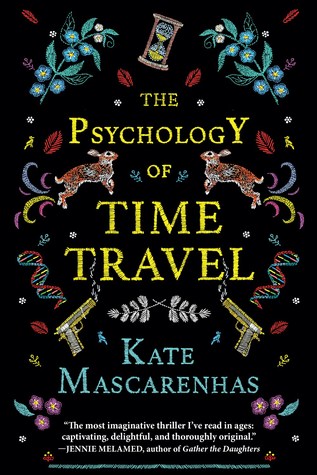 Title: The Psychology of Time Travel
Author: Kate Mascarenhas
Publisher: Crooked Lane Books
Date of Publication: February 2019
Genre: Mystery/Sci-Fi/Romance
Page Count: 336
https://www.goodreads.com/book/show/41035725-the-psychology-of-time-travel
https://www.amazon.com/Psychology-Time-Travel-Novel/dp/1683319443
In Cumbria, England, 1967, Barbara, Margaret, Lucille, and Grace invent time travel without thinking of how it would alter their lives and the world.  The Psychology of Time Travel is an exciting female-driven, murder mystery.
Fifty years after inventing time travel, Barbara receives a notice of a death that will happen on January 6th, 2018. Her granddaughter Ruby agrees to help her grandmother make amends with Margaret in order to gain access to the time travel machines. On January 6th, 2018 Odette, an archaeology student volunteering at a toy museum, finds a dead body that the police aren't able to identify. Odette becomes overwhelmed by the mysterious death and decides she'll feel better if she can figure out who the dead woman is. After a strange visit from a younger Grace, Ruby is convinced it is her grandmother Barbara who will die.
The narrative tackles a lot of issues like friendship, marriage, betrayal, bullying, sexuality, loss, aging, and mortality.
The characters have distinct personalities, desires, fears, strengths and flaws. My favorite characters are Grace and Ruby.
The Psychology of Time Travel is one of the most thought-provoking books I've ever read. Unique, creative, it questions how time travel would impact mental health, relationships, business, history, and language.
The first time I started reading the novel I felt incredibly lost a third of the way in. I went back to the beginning and took notes on the times mentioned at the beginning of each chapter and names of characters (there are a lot) and that helped wrap my mind around the story so I could enjoy myself. The plot feels a little messy at times, but that's to be expected when characters are traveling through time (and even interacting with themselves).
If you liked The 7½ Lives of Evelyn Hardcastle by Stuart Turton or Dark Matter by Blake Crouch then I think you'll enjoy The Psychology of Time Travel. Some of the concepts are wild, yet when you think about it, they make a lot of sense. Complex, interesting and unique! I recommend this to readers 14-years-old+.
Trigger warnings: self cutting, blood, mental health, addiction, eating disorder
Plot: 3.5/5
Characters: 3.5/5
Writing: 4/5
Overall: 3.6/5 rounded up to 4 on Goodreads
Thank you to Sarah at Crooked Lane Books for the complimentary copy in exchange for my honest review.
"Kate Mascarenhas is a writer.
Born in 1980, she is of mixed heritage (white Irish father, brown British mother) and has family in Ireland and the Republic of Seychelles.
She studied English at Oxford and Applied Psychology at Derby. Her PhD, in literary studies and psychology, was completed at Worcester.
Since 2017 Kate has been a chartered psychologist. Previously she has been an advertising copywriter, bookbinder, and doll's house maker. She lives in the English midlands with her partner.
Her new novel, The Psychology of Time Travel, will be published by Head of Zeus in August 2018."
https://www.goodreads.com/author/show/17673611.Kate_Mascarenhas
http://www.katemascarenhas.co.uk/
http://www.crookedlanebooks.com/