"In Sullivan's Crossing, #1 New York Times bestselling author Robyn Carr has created a place where good people, powerful emotions, great humor and a healthy dose of common sense are the key ingredients to a happy life. Sullivan's Crossing brings out the best in people. It's a place you'll want to visit again and again."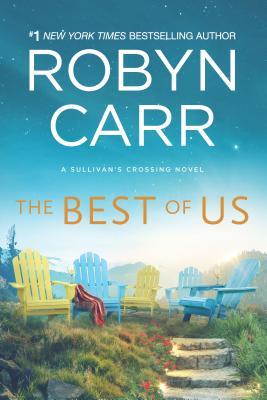 Title: The Best of Us
Author: Robyn Carr
Published January 8, 2019 by Mira Books
Genre: Contemporary Romance
Page Count: 336
https://www.goodreads.com/book/show/41882190-the-best-of-us
"Dr. Leigh Culver loves practicing medicine in Timberlake, Colorado. It is a much-needed change of pace from her stressful life in Chicago. The only drawback is she misses her aunt Helen, the woman who raised her. But it's time that Leigh has her independence, and she hopes the beauty of the Colorado wilderness will entice her aunt to visit often.Helen Culver is an independent woman who lovingly raised her sister's orphaned child. Now, with Leigh grown, it's time for her to live life for herself. The retired teacher has become a successful mystery writer who loves to travel and intends to never experience winter again.When Helen visits Leigh, she is surprised to find her niece still needs her, especially when it comes to sorting out her love life. But the biggest surprise comes when Leigh takes Helen out to Sullivan's Crossing and Helen finds herself falling for the place and one special person. Helen and Leigh will each have to decide if they can open themselves up to love neither expected to find and seize the opportunity to live their best lives."
The Best of Us, fourth book of the Sullivan's Crossing series, takes place in a small town called Timberlake, Colorado. It's the perfect place for Dr. Leigh Culver, who recently moved from Chicago looking for a more relaxing lifestyle. She's selfish, judgemental, and has a lot to learn if she's going to open her heart for local pub owner, Rob. Rob's son, Finn, is in his first serious relationship during his last year of high school. Leigh's Aunt Helen is a retired teacher and author, who raised Leigh after her mother died when she was young. When Helen comes to visit Leigh she strikes up an unexpected relationship. This quick read is a character-driven, feel-good story about friendship, family, and romance.
There are a lot of characters, many mentioned in the first chapter. It felt like an overwhelming info-dump. I almost gave up reading when I was almost a quarter into the book because I wasn't enjoying the writing style at all, however, something happens and that's it – hooked till the end (and even shed some tears).
Sullivan's Crossing, the campground owned by Sully, is a charming place. Sully, a 72-year-old, is my favourite character. He's smart, gentle, kind, and funny. I haven't read any of the other books in the series (and had no idea it was part of a series when I requested the ARC on Netgalley), but I would like to read more stories by Carr if they take place at Sullivan's Crossing.
There were many little things that made this story feel very dated:
1. Referring to salad and diet coke as "girl food"
2. "doesn't look like he could've been the kind of kid to get picked on" because the kid was good-looking.
3. Why in the world would a 34-year-old woman bring her Aunt on a first date?
4. What's the problem with an unmarried pregnant woman?
I recommend this one to adult readers who enjoy a sweet romance story.
Setting: 3/5
Plot: 1.5/5
Characters: 2.5/5
Writing: 2.5/5
Message: 2.5/5
Overall: 2.4
Thank you to Netgalley and publisher for the complimentary copy in exchange for my honest review.
*Quotes taken from an ARC copy and subject to change*
"Robyn Carr is a RITA® Award-winning, eleven-time #1 New York Times bestselling author of almost sixty novels, including the critically acclaimed Virgin River series. The third novel (THE FAMILY GATHERING) in her fan-favorite new series, Sullivan's Crossing, will be released in April 2018. Robyn is a recipient of the Romance Writers of America Nora Roberts Lifetime Achievement Award 2016 and in 2017, VIRGIN RIVER was named one of the HarperCollins 200 Iconic Books of the past 200 years. Robyn and her husband live in Las Vegas, Nevada."