While preparing for Buzzwordathon, I went to my Goodreads TBR and searched for the word "lie". I then searched my library's database to see if they had the book, and that's how I found The Marriage Lie.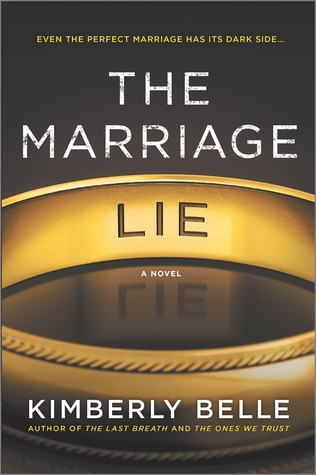 Title: The Marriage Lie
Author: Kimberly Belle
Published Dec. 2016 by Mira
Genre: Mystery/Thriller
"Iris and Will's marriage is as close to perfect as it can be: a large house in a nice Atlanta neighborhood, rewarding careers and the excitement of trying for their first baby. But on the morning Will leaves for a business trip to Orlando, Iris's happy world comes to an abrupt halt. Another plane headed for Seattle has crashed into a field, killing everyone on board, and according to the airline, Will was one of the passengers on this plane. 

Grief-stricken and confused, Iris is convinced it all must be a huge misunderstanding. But as time passes and there is still no sign of Will, she reluctantly accepts that he is gone. Still, Iris needs answers. Why did Will lie about where he was going? What is in Seattle? And what else has he lied about? As Iris sets off on a desperate quest to find out what her husband was keeping from her, the answers she receives will shock her to her very core."
"You are my very favorite person on the planet," he murmurs in my ear, and I smile. These are the words we've chosen instead of the more standard I love you, and to me they mean so much more. Every time they roll off his tongue they hit me like a promise. I like you the most, and I always will.

Do you ever really know someone completely?
The Marriage Lie is a domestic suspense novel that takes place during spring in Atlanta. Iris, a psychologist, has been married to Will, a computer scientist, for seven years. A plane traveling to Seattle crashes, and authorities tell Iris that Will was on the plane, but she is confused because he said he was taking a flight to a conference in Orlando. Iris goes on a trip with her twin brother to find out more about her husband's past.

Quickly drawn into the story, I was crying by page 30, and couldn't wait to see what was going to happen. Iris's twin brother, Dave, is my favourite character. For the first half of the book Iris felt relatable, and tug at my heart-strings. The twist was predictable for me, and I felt bored for the last quarter of the book.

"Dread begins to burrow under my skin like a parasite, slow and steady, eating away at my certainty."

The Marriage Lie was just okay for me, however, it was a semifinalist in the 2017 Goodreads Choice Awards, so it may be great for other Mystery/Thriller fans.

"Kimberly Belle is the internationally bestselling author of four novels: The Last Breath, The Ones We Trust, The Marriage Lie, and Three Days Missing (June 2018). Her third novel, The Marriage Lie, was a semifinalist in the 2017 Goodreads Choice Awards for Best Mystery & Thriller and has been translated into a dozen languages. A graduate of Agnes Scott College, Kimberly worked in marketing and nonprofit fundraising before turning to writing fiction. She divides her time between Atlanta and Amsterdam."

http://kimberlybellebooks.com/