"Once, there were four Houses of France.

Like all the other Houses within the Order of Babel, the French faction swore to safeguard the location of their Babel Fragment, the source of all Forging power.

Forging was a power of creation rivaled only by the work of God.

But one House fell.

And another House's line died without an heir.

Now all that is left is a secret."
About The Book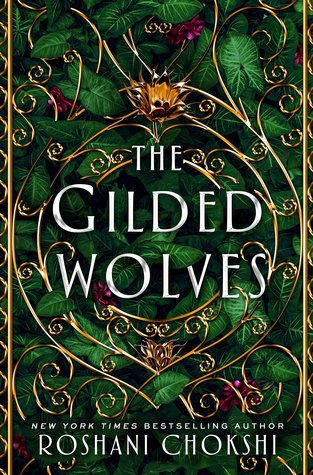 Title: The Gilded Wolves

Author: Roshani Chokshi

Published January 2019

Category: Young Adult
Suggested Reader Age: 13+

Genre: Fantasy, Historical Fiction

Hardcover 388 pages

My Review
"Wolves were everywhere. In politics, on thrones, in beds. They cut their teeth on history and grew fat on war."
› Setting
Paris, 1889 – 100 years after the French Revolution, a few weeks before the Exposition Universelle 1889 (which began on May 6th in real life).

"History is a myth shaped by the tongues of conquerors."

 › Plot
The ring of House Kore was stolen, the thief could use the ring to find the secret location of the Babel Fragment. Hypnos will help Séverin find the ring and in return Séverin, Tristan, Laila, Zofia, and Enrique will help Hypnos find a Horus Eye. Séverin hopes that by finding the ring of House Kore he will regain his status as heir.

 › Characters
– Séverin (pronounciation):
Algerian & French – hotel owner and treasure hunter seeking to regain his true inheritance of House Vanth.

– Tristan: 16 years old, Caucasian French, like a brother to Séverin. It's kinda cute how much he loves his pet tarantula.

– Enrique, bi-racial historian and journalist from the Philippines. He experiences discrimination due to his light skin. He wishes he could forge, turned to History and Language as a way to change the world. Bisexual or pansexual?

– Zofia: Jewish/Polish. Has metal forging ability. Extremely intelligent. I get the feeling she may be on the Autism spectrum, although that's not a term that would have been used in the 19th century. She believes Forging is a science we don't yet understand.

– Laila, 18 year old dancer known by the name L'Énigme (in English means "riddle"). She knows the history of an object by touching it. She left her family in India to look for a book that has answers about her history. Séverin and Laila once had a night of passion a year and a half ago, but swore to never do it again.

– Hypnos: Black, the young heir to House Nyx. Named his residence Erebus, which I found interesting because in Greek Mythology Erebus is the personification of "darkness" or "shadow". Does this mean anything to this story? Also, in Greek Mythology "Hypnos" means sleep. Hypnos is bisexual or pansexual, and is hilarious.

– The Order of Babel: a secret society which has a duty to safeguard the forging ability which comes from the presence of Babel Fragments.

 › The Four Houses:
House Kore
House Nyx
House Vanth
The Fallen House

"But what no one tells you is that even when you decide which world you will live in, the world may not always see you as you would wish. Sometimes it demands that you be so outrageous as to transcend your very skin. You can change your name. Your eye colour. Make yourself a myth and live within it, so that you belong to no one but yourself."

 › Writing Style
– The characters are the highlight of this story. Zofia is my fav. My son has been diagnosed with ADHD and Sensory Processing Disorder so Zofia's thoughts, perceptions, and struggle to understand emotion felt authentic.

I liked the banter, wit, and sarcasm in their friend group interactions. The BEST part is the diverse cast with different races, cultures, genders, people of colour, LGBT rep and Autism rep – and NONE of them feel like they're in the story just to increase the diversity. They all had a purpose and if any of them were removed, it would greatly impact the plot. Most of the characters are have thorough descriptions, however, I felt like some of the details were mentioned in passing, or felt rushed.

Gadgets, science and math gives this Fantasy novel a Sci-Fi/steampunkish feel that is unique and smart.

The settings are fantastic! Séverin's glorious hotel, the poisonous greenhouse, the secret library…Every place we visit is explained with amazing detail.

♥ The romantic angst! That DANCE. Oh yes, so good.

I would have liked a bit more explanation about Forging.

"Séverin crossed his arms. "Zofia, tell him he's pretty."
Zofia didn't look up from her tea. "I am personally undecided, but if we're assessing based on objectivity, then according to the principles of the golden ratio, also known as phi, which is approximately 1.618, your facial beauty is mathematically pleasing."

 › Themes
The big message here is about colonization, the erosion of culture, and how important it is to remember our history, especially our ugly history that serves as learning opportunities. I love how Chokshi has weaved a fun heist story around incredibly important topics.

I have a Bachelor of Arts, Major in Social & Cultural Anthropology/Sociology and Minor in History – so I LOVE to talk about people, and culture, and history. One of the most important things I learned is that history is often told by from one perspective, and some of the most poignant lessons are learned when we get to hear stories from a different perspective.

"Nothing but a symbol? People die for symbols. People have hope because of symbols. They're not just lines. They're histories, cultures, traditions, given shape."

 › The Gilded Wolves is a heist story with magic, puzzles, diversity, mystery, danger, and secrets. Six of Crows book by Leigh Bardugo meets Oceans 11 and National Treasure movies. According to Goodreads, the next book for The Gilded Wolves series is expected January 2020.
Setting: 5/5
Plot Development: 3.5/5
Characters: 4.5/5
Quality of Writing: 5/5
Ending: 5/5
Overall: 4.6
Love books? Get your next read for 50-90% off list price, plus get $10 off your first $25+ order at Book Outlet.
You can use my referral code and we'll both benefit 🙂
https://goo.gl/cjPDJZ



About The Author
"Roshani Chokshi is the New York Times bestselling author of The Star-Touched Queen and A CROWN OF WISHES. Her middle grade debut, ARU SHAH AND THE END OF TIME, released April 3, 2018 from Disney/Rick Riordan Presents. The sequel, ARU SHAH AND THE SONG OF DEATH is slated to release April 30, 2019. Her next young adult novel, THE GILDED WOLVES, is slated for January 15, 2019. Chokshi's work has appeared in Strange Horizons, Shimmer, and Book Smugglers. She was a finalist in the 2016 Andre Norton Award and the Locus Top Ten for Best First Novel. Her short story, "The Star Maiden," was longlisted for the British Fantasy Science Award."

https://roshanichokshi.com
Connect With Me
Twitter | Goodreads | Instagram | Facebook