📓 Final Draft is a Young Adult Contemporary novel written by Riley Redgate. I received a complimentary copy in exchange for my honest, unbiased opinion. Thank you to the publisher, author, and NetGalley, for allowing me to review. 📚 😌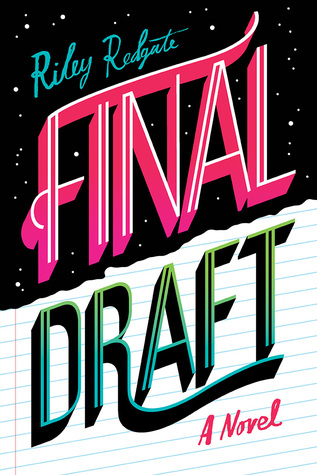 Title: Final Draft
Author: Riley Redgate
Genre: YA Contemporary
Publisher: Amulet Books
Date published: June 12th, 2018
Page Count: 272
🌟🌟🌟🌟
"The only sort of risk 18-year-old Laila Piedra enjoys is the peril she writes for the characters in her stories: epic sci-fi worlds full of quests, forbidden love, and robots. Her creative writing teacher has always told her she has a special talent. But three months before her graduation, he's suddenly replaced—by Nadiya Nazarenko, a Pulitzer Prize–winning novelist who is sadistically critical and perpetually unimpressed.
At first, Nazarenko's eccentric assignments seem absurd. But before long, Laila grows obsessed with gaining the woman's approval. Soon Laila is pushing herself far from her comfort zone, discovering the psychedelic highs and perilous lows of nightlife, temporary flings, and instability. Dr. Nazarenko has led Laila to believe that she must choose between perfection and sanity—but rejecting her all-powerful mentor may be the only way for Laila to thrive." https://www.goodreads.com/book/show/35960813-final-draft
Set in Brooklyn, Final Draft is a third-person story about friendship, grief, mental health, and sexuality, with a DIVERSE cast. The main character, Laila, is a biracial, pansexual, Ecuadorian/French-Canadian teenager. Her inner thoughts remind me of things I said to myself as a teenager. Laila's soft-spoken teacher, Mr. Madison, reads her stories and encourages her to keep writing. He's the kind of teacher we've probably all had. This is a purposefully slow story that takes place the summer before Laila and her three friends leave for college. I didn't like Nazarenko's character, but it didn't ruin the story for me.

Beautifully introspective. Redgate isn't afraid to speak the truth, writing about big things like sexual orientation, female sexuality, and racial identity.
I was annoyed when descriptions of people mentioned they didn't look "normal", or that it was shocking for a larger person to have confidence. Throwing homeopathic remedies and healthy food under-the-bus was also unnecessary. Having a teenager complain about healthy things has been done, and I feel that it's not authentic.
This would be a great Summer read. Be sure to visit your local bookstore or library and check out this brand new novel.
According to Amazon, Riley Redgate is a graduate of Kenyon College in Ohio. She's the author of Seven Ways We Lie (2016), Noteworthy (2017), and Final Draft (2018).