Powerful and inspiring, The Girl They Left Behind is an important, heart-wrenching historical fiction novel based on true events that left me feeling incredibly grateful for my life and children.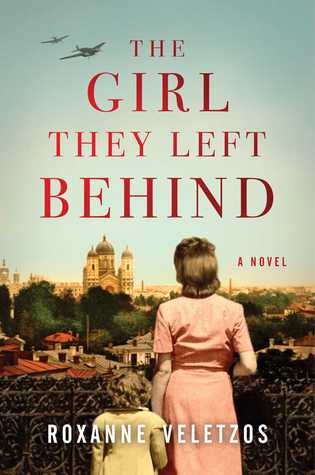 Title: The Girl They Left Behind
Author: Roxanne Veletzos
Publisher: Atria Books
Date of Publication: October 30, 2018
Genre: Historical Fiction WWII
Page Count: 368 (e-book)
https://www.goodreads.com/book/show/39019053-the-girl-they-left-behind
"A sweeping family saga and love story that offers a vivid and unique portrayal of life in war-torn 1941 Bucharest and life behind the Iron Curtain during the Soviet Union occupation—perfect for fans of Lilac Girls and Sarah's Key.
On a freezing night in January 1941, a little Jewish girl is found on the steps of an apartment building in Bucharest. With Romania recently allied with the Nazis, the Jewish population is in grave danger, undergoing increasingly violent persecution. The girl is placed in an orphanage and eventually adopted by a wealthy childless couple who name her Natalia. As she assimilates into her new life, she all but forgets the parents who were forced to leave her behind. They are even further from her mind when Romania falls under Soviet occupation.
Yet, as Natalia comes of age in a bleak and hopeless world, traces of her identity pierce the surface of her everyday life, leading gradually to a discovery that will change her destiny. She has a secret crush on Victor, an intense young man who as an impoverished student befriended her family long ago. Years later, when Natalia is in her early twenties and working at a warehouse packing fruit, she and Victor, now an important official in the Communist regime, cross paths again. This time they are fatefully drawn into a passionate affair despite the obstacles swirling around them and Victor's dark secrets.
When Natalia is suddenly offered a one-time chance at freedom, Victor is determined to help her escape, even if it means losing her. Natalia must make an agonizing decision: remain in Bucharest with her beloved adoptive parents and the man she has come to love, or seize the chance to finally live life on her own terms, and to confront the painful enigma of her past."
"In anguish and despair we release this child into the hands of God, with hope and faith that she may be saved."
Based on true events, The Girl They Left Behind is an emotional story that begins when a concierge finds a four-year-old girl alone in Bucharest, January 1941. I teared up many times while reading this, and enjoyed every single second.
Anton and Despina are a wonderful couple who face many challenges, and even when they don't agree they find a way to always respect each other. Stefan and Maria are another great couple who adopt Natalia. I didn't enjoy Victor's character until later in the story. He just is…just…ugh I don't want to give anything away. He's just great.
The beautiful writing tells the story of family, war, heartbreak, loss, grief, resilience, courage, survival, hope, freedom, and peace.
"In his long stare, Natalia saw a trace of sadness and something she had never glimpsed before: fear. Perhaps he had always feared this moment, this exact moment when he would have to reckon with his past and be forced to make amends, excuses. But she would not be the one to give him redemption."
I liked the pacing of the plot, except that the middle felt a little bogged down. There are some mentions of women "obeying" and being "delicate" without much said to counter the sexism. However, I understand this story takes place in a different time. It didn't affect the story for me, so it won't affect my rating either.
Deeply moving, The Girl They Left Behind gave me goosebumps. Highly recommend this to readers thirteen-years-old+.
Plot: 5/5
Characters: 5/5
Writing: 5/5
Overall: 5/5
Thank you to Netgalley and publisher for the complimentary copy in exchange for my honest review.
*Quotes taken from an ARC copy and subject to change*
"Roxanne Veletzos was born in Bucharest, Romania and moved to California with her family as a young teen. Already fluent in English and French, she began writing short stories about growing up in her native Eastern Europe, at first as a cathartic experience as she transitioned to a new culture. Building on her love of the written language, she obtained a bachelor's degree in journalism and has worked as an editor, content writer and marketing manager for a number of Fortune 500 companies. Since 2012, Roxanne has been writing historical and contemporary fiction and is the author of two novels."
https://www.goodreads.com/author/show/17709452.Roxanne_Veletzos
https://www.roxanne-veletzos.com/